Content Marketing Services
Research shows that the more content your audience consumes, the more likely they are to buy from you. Investing in content creation can help you achieve (and go beyond!) your business goals by improving your online presence, organic traffic volume, and bottom line figures.
Content Marketing Services for Traffic, Rankings, & Sales
Our agency's content marketing services will help you increase website traffic from your online marketing channels. It will help you take people from other online channels to your website. These online marketing channels may be social media, search engines, or your email marketing efforts. Our content writers will produce relevant content to engage your audience, promote brand awareness, build trust, and influence their purchasing decisions. Our content marketing services includes strategy development, content writing, editing, and publishing to your website.
Revenue-driving content marketing services
Trying to make the most of your leads? VISECH is one of the best ways to keep your company in the forefront of the minds of your business leads by offering them timely, relevant, and targeted emails. VISECH's email marketing packages include:
Content marketing is one of the most powerful digital marketing strategies. With the ability to double website conversion rates, as well as drive brand awareness and website traffic, content marketing is essential to increasing your company's revenue.
Excellent Quality Content Tailored To Your Needs

We produce captivating infographics that engage your audience

We write SEO friendly and 100% original website content

Personalized email newsletters to grow your subscribers

Excellent stories to increase your email list

In-depth and well-researched case studies

Magnetic and result-oriented video content
What's included in Our Content Marketing Services?
Content Marketing Strategy Development
What we do first is to complete content marketing analysis to know how your website content compares against your top 3 competitors. Then, we seek the top content keywords in your market area and industry. After that, our content writers create a content marketing strategy to assist you to grow sales and increase your brand identity.
Having amazing targeted content may not do your business any good unless expectations can find and engage with it. We make sure that every piece of content we create will be optimized for search engines so that it may appear on the top of Google, Bing, and Yahoo for related search terms. We also suggest combining your content marketing services with social media marketing services and email marketing services so it participates as much online real estate as possible.
Content Audience Deep-Dive
Different audiences prefer to use a different type of content, so what the next step is to do a deep-dive into your audience to light on what type of content they prefer. After our specialist know who your audience is, we can begin to generate natural content they'll like very much to engage with.
Content Measurement & Analytics Reporting
To provide you with, we create the content that drives results. We do that by following and measuring its performance over time. We'll send you easy-to-understand monthly reports on the performance and results of all your content campaigns. You'll know how they're affecting your bottom line and branding achievements.
The third step is to get to work. Our content writers Pakistan will publish targeted, well-written content that includes:
Blogs
Infographics and visual content
Email newsletters
Press releases
Social posts
White papers and ebooks
And more!
Campaign Optimization & Adjustment
The final step is to get the results and tracking data and consume them to adjust your campaign. With each report, the professionals of VISECH will absorb something new about how the people in your industry are taking your content. After that, we make an adjustment in order to boost your visibility. The end result is a continual wheel of sales-driving content that boost your brand visibility, as well as the overall success of your marketing campaign.
Why VISECH For Content Marketing Services
We are a full-service firm
Our agency can manage more than just the blogging and copywriting aspects of your content marketing campaign. We offer full-service solutions to help you grow your business and fuel your content marketing efforts. For example, we offer advertising services to drive traffic to your content. And, we offer social media management and social media advertising to distribute your content to your audience. Use a full-service content marketing agency to help you through every component of your online marketing strategy.
Our content marketing services are backed with high integrity; we want to earn your trust through providing great work.
Spending your entire budget on a content marketing agency is like buying a car without gas. We have designed our content marketing services to fit any small business owner's budget. This allows you to lower your costs by avoiding hiring a full-time employee, and using an experienced agency that will generate more results. Our content team is ready to help your business succeed with high-quality content at an affordable price.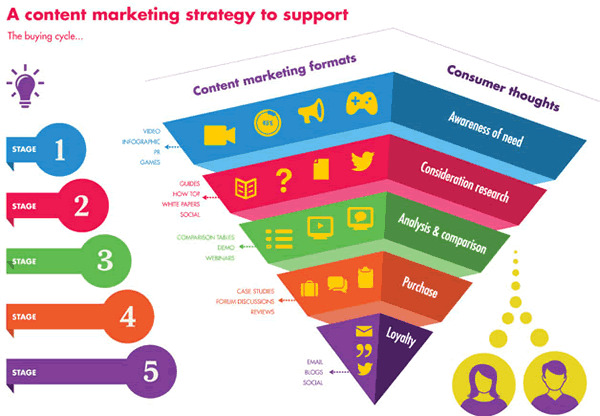 Great content and content marketing is vital in growing your business online. What do we mean by content? Anything that can be consumed online, such as the written word, images, pictures, infographics, audio and video. By understanding your target market, and creating useful information for them, it helps both acquire new customers and also retain existing customers.
Content marketing is the online art of communicating with your customers and prospects without selling. It is the opposite of interruption marketing (such as leaflets or posters) and is a core part of any search optimization strategy.
No matter your industry, we are experts at getting to know your business and the things that will interest potential customers.
Learn More on How Content Marketing Can Grow Your Business!